Over 50 Years of Expertise in
Truck/Van Rental & Sales
NEW OPEL RANGE
Explore the new Opel range of trucks & vans for sale.
USED TRUCKS & VANS
We stock quality used trucks and vans for sale.
TESTING CENTRE
We are authorized CVRT testers since 1980.
TRUCK & VANS RENTALS
Single or multiple commercial vehicles for flexible hire periods.
SERVICING
We offer corporate and private vehicle servicing.
RECOVERY
We are truck and bus recovery experts.
EXPERIENCE & REPUTATION
With Roots in Ballymount for over 50 years.
The main company was incorporated in 1964 and was started by John Murphy Sr and his Sons. However, Murphy's have been in operation in Ballymount for over 100 years. The family has always been involved in motoring and machinery. John Murphy Sr was a railway engineer while his sons were all motor mechanics.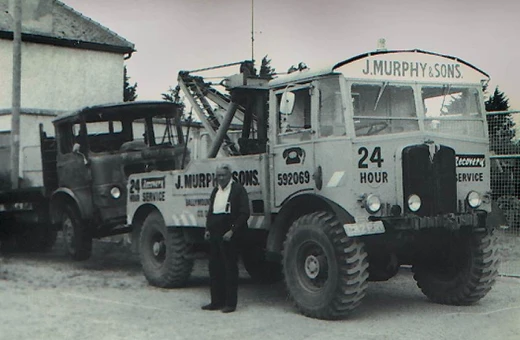 ABOUT OUR BUSINESS
READ OUR REVIEWS
Customer Reviews
Martin FitzGerald,
Dublin
Rented a jumbo style van over the weekend from Murphys. Excellent and competitive rates, the van very clean and pleasure to deal with the excellent staff. Highly recommend.
We recently picked up a few new combo panel vans for our food business. The guys at Murphy's were great to deal with. Really knowledgeable, helped with all the paperwork etc. Made the whole process a breeze.
Great choice of used commercials. All really well maintained and running perfectly. Defo would recommend this dealership to anyone in the market for a reliable and capable vehicle.
Got some really good advice when I was looking to invest in a good van for my new business. Everyone I talked to here was really helpful and couldn't have done more to help. We've been trading almost a year now and couldn't have done it without the advice (And the Van!)
They have everything you could need for good reliable vehicles for the trades. I've gotten a used van in the past from them and it was in excellent condition, I recently upgraded to a new Vivaro and am really pleased. Does the job perfectly.
We've been using Murphy's for years to keep our trucks on the road and for updating them when we need to. Wouldn't go anywhere else, these guys have really looked after us.